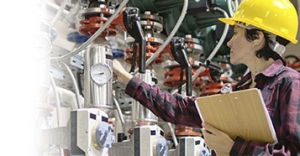 Fluoropolymers are indeed an excellent choice for parts that must perform in challenging environments. These polymers, which include materials like PTFE (polytetrafluoroethylene), FEP (fluorinated ethylene propylene), and PFA (perfluoroalkoxy), offer a range of unique properties that make them ideal for such applications:
Chemical Resistance: Fluoropolymers are highly resistant to a wide range of corrosive chemicals, acids, and bases. This makes them suitable for use in environments where other materials would quickly deteriorate or corrode.
Temperature Resistance: These polymers can withstand extreme temperatures, both high and low. PTFE, for example, can handle temperatures as low as -200°C and as high as 260°C, making it ideal for applications in harsh temperature conditions.
Non-Stick Properties: Fluoropolymers have excellent non-stick properties, which means they do not easily adhere to other materials. This is why they are often used in cookware coatings, but it's also valuable in industrial applications where materials need to slide or not adhere to surfaces.
Electrical Insulation: They have good electrical insulation properties, which is important in applications where electrical conductivity could cause problems.
UV Resistance: Many fluoropolymers are highly resistant to ultraviolet (UV) radiation, making them suitable for outdoor applications.
Low Friction Coefficient: These materials have a low coefficient of friction, which means they can reduce wear and tear in moving parts and machinery.
Biocompatibility: Some fluoropolymers are biocompatible, making them suitable for use in medical and pharmaceutical applications.
Fluoropolymers find applications in various industries, including chemical processing, electronics, aerospace, and automotive, where they are exposed to aggressive chemicals, extreme temperatures, and other challenging conditions. Their durability, resistance, and performance characteristics make them an excellent choice for parts and components in these demanding environments.
For more information on how Performance Plastics can help you with your material choice in challenging environments, please contact Rich Reed, Vice President of Sales and Marketing at [email protected]
https://performanceplastics.com/wp-content/uploads/PPL-Small3-01.png
0
0
Aileen Crass
https://performanceplastics.com/wp-content/uploads/PPL-Small3-01.png
Aileen Crass
2023-10-26 09:57:59
2023-10-26 09:57:59
Fluoropolymers are a great choice for Challenging Environments