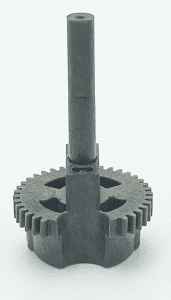 PEEK is a high-performance engineering plastic with outstanding resistance to harsh chemicals, excellent mechanical strength, and dimension stability. PEEK (Polyetheretherketone) is an organic thermoplastic polymer, comprised of a semi-crystalline structure which gives it a strong chemical structure.
PEEK is an excellent choice for industrial applications because of its ability to resist harsh conditions:
Resistant to a Wide Range of Chemicals: 
PEEK performs in the toughest chemical environments, capable of resisting more than 140 types of acids, bases, oils, liquids, salts, and elements.
 Immense Temperature Resistance: 
PEEK has an extremely high melting point at 662 °F. It can be used in applications with temperatures up to 482 °F. 
 Extended Resistance to Hydrolysis Process: 
Hydrolysis refers to the chemical process where water is added to a substance. PEEK has the ability to withstand exposure to steam and water for long periods of time without degrading.
 Great Durability: 
PEEK is tough, stiff, and extremely strong.  It has the capability to withstand friction and can perform for long periods of time without suffering from wear and tear.
PEEK is an optimal choice for industrial applications. Most industries see PEEK as the preferred material for parts that are used in extremely harsh application industries. These include oil and gas, mining, heavy equipment, and renewable energy.
Performance Plastics' team of experienced engineers possesses the expertise to design and manufacture technically challenging projects and offer complex solutions within harsh application industries.
For more information on how Performance Plastics can assist in your material selection challenges, please contact Rich Reed, VP Sales & Marketing at 513.321.8404 or [email protected].
https://performanceplastics.com/wp-content/uploads/PPL-Small3-01.png
0
0
Aileen Crass
https://performanceplastics.com/wp-content/uploads/PPL-Small3-01.png
Aileen Crass
2022-10-18 08:59:21
2022-10-18 09:02:16
PEEK For Industrial Applications