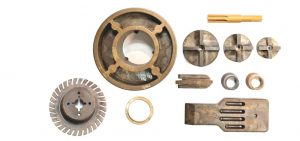 Torlon is a high-performance polymer that is often used in precision industrial applications due to its exceptional mechanical and thermal properties. It is a brand name for polyamide-imide (PAI), a thermoplastic material that exhibits excellent strength, stiffness, and dimensional stability.
Here are some key characteristics and advantages of Torlon in precision industrial applications:
High Strength and Stiffness: Torlon has a high strength-to-weight ratio and exceptional rigidity, making it suitable for applications that require structural integrity and resistance to deformation under heavy loads.
Dimensional Stability: Torlon maintains its dimensional stability even under elevated temperatures, which is crucial in precision applications where tight tolerances and accurate fit are required. It has a low coefficient of thermal expansion, reducing the risk of dimensional changes due to temperature fluctuations.
Chemical Resistance: Torlon is highly resistant to a wide range of chemicals, including acids, solvents, fuels, and oils. This chemical resistance makes it suitable for applications in chemical processing, oil and gas, and other industries where exposure to corrosive substances is a concern.
High-Temperature Resistance: Torlon retains its mechanical properties at elevated temperatures, with a glass transition temperature (Tg) of approximately 280°C (536°F) and a melting point of around 310°C (590°F). This thermal stability allows it to perform reliably in high-temperature environments.
Low Friction and Wear Resistance: Torlon exhibits excellent tribological properties, including low friction and wear resistance. This makes it suitable for applications that involve sliding or rotating components, such as bearings, bushings, and wear pads.
Electrical Insulation: Torlon is an excellent electrical insulator, offering high dielectric strength and low electrical conductivity. It is often used in electrical and electronic components where insulation and electrical performance are critical.
Machinability: Torlon is known for its machinability, allowing it to produce complex shapes and precise components. It can be easily machined using conventional machining techniques, including milling, turning, drilling, and grinding.
Due to its exceptional properties, Torlon is commonly found in industries such as aerospace, automotive, electronics, oil and gas, chemical processing, and various other high-performance applications that demand precision, reliability, and durability.
For more information on Torlon or how a high-performance polymers can benefit your application, please contact Rich Reed, Vice President of Sales and Marketing at [email protected] or visit our website at www.performanceplastics.com.
https://performanceplastics.com/wp-content/uploads/PPL-Small3-01.png
0
0
Aileen Crass
https://performanceplastics.com/wp-content/uploads/PPL-Small3-01.png
Aileen Crass
2023-05-18 08:59:57
2023-05-18 08:59:57
Torlon for Precision Industrial Applications