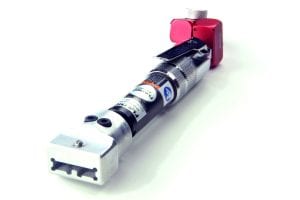 EnduroSharp® has improved the way aerospace maintenance professionals remove sealants and adhesives from substrates and fasteners.  EnduroSharp® resharpenable, non-marring tools are made from Torlon®, a high strength polymer, creating a non-metallic blade tool that will not damage composite structures during use.
Many of our EnduroSharp® tools can be used in conjunction with a pneumatic tool.  A pneumatic tool is one that's driven with the assistance of compressed air rather than electricity.  Pneumatic tools rely on air compressors to provide a burst of air to perform its operation. A pneumatic tool can operate indefinitely as long as the attached air compressor can deliver the required volume and pressure without interruption.
Pneumatic Tools are very strong air powered tools and provide the user with a tremendous amount of labor and time saving torque.
Pneumatic tools provide many advantages:
Main advantage is they are far less expensive than their electric alternatives.
Provide a degree of safety in wet areas where electric motors can be dangerous.
Lighter in weight than their electric counterparts.
Pneumatic tools can deliver large amounts of torque or operate for long durations of time.
More flexible than electric – nearly all air-driven tools use the same ¼" quick connect fittings.
Generally, pneumatic tools are smaller, more versatile, easy-to-use and safer than traditional electric tools.  Since pneumatic tools are usually lighter, the user is able to have better control and experience less fatigue and strain.  They are also able to withstand various elements such as dust, heat and water better than electric tools.
The EnduroSharp® Pneumatic Tool for Scraper Blades is just one of the many products offered in the EnduroSharp® Product line. Contact Rich Reed,  Vice President of Sales and Marketing, at (513) 321-8404 or [email protected], for more information.
https://performanceplastics.com/wp-content/uploads/PPL-Small3-01.png
0
0
Aileen Crass
https://performanceplastics.com/wp-content/uploads/PPL-Small3-01.png
Aileen Crass
2022-07-27 13:55:23
2022-07-27 13:58:27
EnduroSharp® Torlon® Aircraft Maintenance Tools – Why Use a Pneumatic Tool