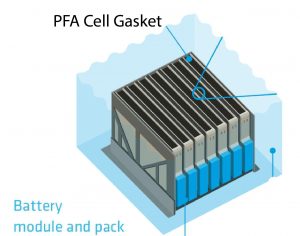 The Lithium Ion Battery industry has begun using more and more plastic parts in their manufacturing processes. Most batteries intended for light vehicle usage now have 50% more plastic materials than they did even 10 years ago.  Some batteries have entirely plastic formulations ranging from the electrolyte (polymeric electrolytes) to the casing.  This is due to the very low weight of plastics as compared to metals. Plastic incorporation in batteries increases the electrolyte efficiency if used in polymeric electrolytes.
Commercially available lithium-ion batteries also use plastics. Plastic components incorporated in batteries include separators, gaskets, and casing components. Plastics have good shock absorbing characteristics and prevent damage to the basic cell unit from minor accidental shocks. Also, plastics such as Teflon® PFA, Ultem® PEI, and PPSU have high temperature resistance, corrosion resistance, and are electrical insulators so they are excellent at preventing short-circuit and "rapid disassembly."
There has been a major shift from metal to resins in gasket manufacturing. Gaskets can be made from Ultem®, Ryton PPS and Fluoropolymers (PFA plastic) because of high heat resistance, chemical resistance, and ability to mold thin walls (.012"). Plastic parts may also lower the cost of production of batteries and may eventually replace most metallic components of batteries.
Performance Plastics is highly skilled at designing and molding high performance materials such as FEP/PFA, Ultem®, Torlon®, PEEK, POM, and PPS.  We work with our customers to solve technically challenging problems.   We can propose materials to implement part functionality in the design stage of development. We offer manufacturing solutions such as a clean room, the ability to offer direct gating of fluoropolymers, high volume production, visual inspection and automated facilities.
For more information and solutions, please contact Rich Reed, Vice President of Sales & Marketing at 513-321-8404 or email [email protected]
https://performanceplastics.com/wp-content/uploads/PPL-Small3-01.png
0
0
Aileen Crass
https://performanceplastics.com/wp-content/uploads/PPL-Small3-01.png
Aileen Crass
2021-12-17 07:32:32
2022-02-28 15:39:06
Injection Molded PFA in the Lithium Ion Battery