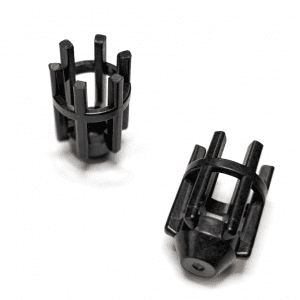 Navigating supply chain issues in this economic environment where there are rampant material shortages is an ongoing challenge. But many commonly used engineered resins may serve well as replacements for your application. Performance Plastics are experts in material selection and can assist your organization in choosing the best material based on the functionality of your part.
PEEK (Polyether Ether Ketone), PAEK (Polyaryletherketongs) and PEI (Polyetherimide) are high performing engineering thermoplastics that offer a unique combination of thermal stability, chemical resistance, and excellent mechanical properties.
PEEK is extremely tough and has very high impact strength.  Due to the crystalline nature of the material, a high degree of mechanical properties is retained close to their melting temperature.  The also have a low creep and good wear properties.  It is also known for excellent chemical resistant during hydrolysis. PEEK is actively used in metal to plastic replacement applications.
PAEK is a high thermal stability material that offers high strength and high resistance to oxidation. It offers better solvent resistance and is more amorphous based on its semi-crystalline structure.  This makes it an excellent choice for medical components, sea equipment and valve components.
PEI is a high-performance engineering plastic that offers outstanding thermal, mechanical and chemical properties.  It is often the best choice where high mechanical strength is needed in conjunction with high temperature, corrosion and wear resistance. This makes PEI an excellent alternative for applications requiring tight tolerances and low warp such as medical devices, scientific equipment parts and semiconductor equipment components.
Performance Plastics are specialists in high performance plastics engineering for many industries including medical, defense and industrial applications. We partner with our customers to offer solutions to some of the most challenging applications.  For more information, please contact Rich Reed, Vice President of Sales & Marketing at 513.321.8404 or email [email protected].
https://performanceplastics.com/wp-content/uploads/PPL-Small3-01.png
0
0
Aileen Crass
https://performanceplastics.com/wp-content/uploads/PPL-Small3-01.png
Aileen Crass
2022-07-19 08:58:36
2022-07-19 09:30:19
PEEK, PAEK and PEI are Great Alternatives During Material Shortages