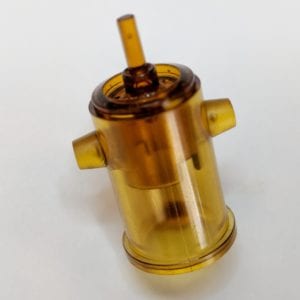 Ultem Polyetherimide is a material widely used in the aerospace industry.  It is often applied to aircraft components for weight reduction in place of metal parts.  Additionally, since it has a high thermal resistance rating, polymer components have the benefit of evading radar detection in military aircraft.
ULTEM is among the few resins approved for use in the aerospace sector. It outperforms comparable thermoplastics when it comes to resisting creep and does not degrade under repeated mechanical stress. It also holds up well when brought into contact with various fuels, coolants, and lubricants. Its flame-resistance ensures that it meets FAA regulations for flammability.
ULTEM has one of the highest dielectric strengths of any thermoplastic material. It works very efficiently as an electrical insulator. ULTEM also has one of the lowest rates of thermal conductivity, allowing parts machined from ULTEM to act as thermal insulators. ULTEM offers excellent long-term heat resistance with its mechanical and physical properties remaining stable at elevated temperatures.  It is also flame resistant with extremely low smoke generation. ULTEM is FDA and NSF approved for both food and medical contact resistance act and therefore is an excellent choice for aircraft galley equipment such as ovens, microwaves and hot or cold beverage dispensing systems.
Ultem is now widely used in:
Personal Service Units
Oxygen Panels
Ventilation Systems
Connectors
Cable Ducts
Latches
Hinges
Food Tray Containers
Door Handles
Interior Cladding Parts
Ultem offers exceptional balance of flame retardancy, low smoke emission and low smoke toxicity making it an excellent candidate for aerospace and aircraft applications.
At Performance Plastics, we are experts in injection molding, specializing in high performance plastics. Ultem® is an amorphous material, which can cause complications during the injection molding process. A specific set of conditions, equipment, and processing procedures must be followed to effectively injection mold Ultem®. Our proprietary tool design software, processes and equipment enable us to injection mold components having complex geometries made from challenging ultra, high-performance thermoplastic materials, and reinforced compounds.
Ultem® is one of the many high-performance polymers in which Performance Plastics specializes.  For more information on Performance Plastic's capabilities, please contact Rich Reed, Vice President of Sales and Marketing at 513.321.8404 or email at [email protected]
https://performanceplastics.com/wp-content/uploads/PPL-Small3-01.png
0
0
Aileen Crass
https://performanceplastics.com/wp-content/uploads/PPL-Small3-01.png
Aileen Crass
2022-06-01 10:10:29
2022-06-01 10:24:21
Ultem® Use in Aerospace Applications